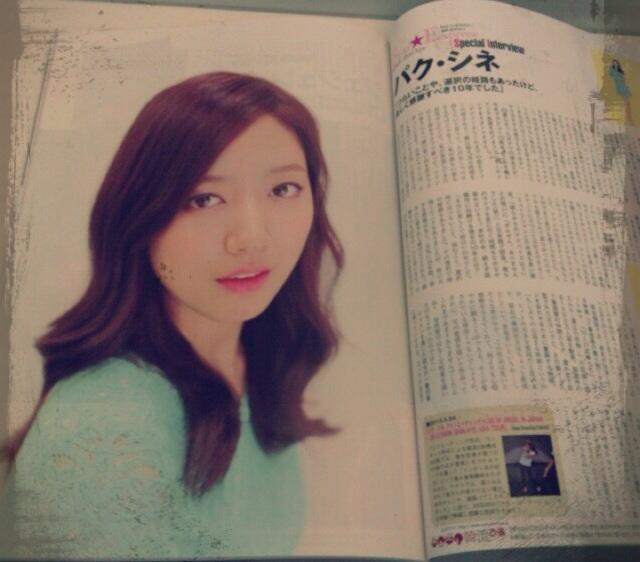 Translated by ozbussi.
SH: The roles which are mostly alike to me are Go Mi Nam in YAB and Go Dok-mi in FBND. Mi Nam is cheerful, active and curious. In the other hand, Dok-mi is quiet and doesn't talk much. They seem to be totally opposite. But I have both sides. It doesn't mean I'm a two-sided person, but my range of emotions is wide. When I create my roles, I reflect myself to roles. So if I can't 100% approach to my roles, I use methods pulling roles (characters) close to me.
I've wanted to have time to look back on myself and years from my debut with my fans. But I also wanted to show something new of me, not only just talking on the stage. So I'm going to sing some OST, and make memories with fans. Japanese fans are very warm, aren't they? There were many shy fans hiding behind before, but nowadays I have many fans who express their love a lot and sincere Lol.
I was going to be a singer at the beginning. Though I don't sing OST as a singer but I take a part as an actress. I sing as a role I play, and I sing as I am acting. Since actors and actresses show their works through TV and screens, we can't see our fans' reaction directly. But as I do lives in my fan meetings, I can see my fans' reaction immediately. I can feel pleasure and also thrill, so fan meetings are very fun. I love being on the stages!
Interviewer: You co-starred with many musicians. Did you get any advices from them?
Shin Hye: Not at all. (She answered immediately in Japanese). She doesn't even have time to go their lives.
How were your 10 years from your debut?
SH: They were really joyful and interesting 10 years. I had some difficult time, something to worry and crises. And I have experience that I made wrong decision at my crossroads, and regretted. However, in these 10 years, I could stay fine and loved without any big troubles. I should be grateful fort these 10 years. If I pick my works which brought me turning points in my life, I think they are my debut work, "Stairway to Heaven" which made my life as an actress not a singer, and "You're Beautiful". This drama gave me chances to meet my Japanese fans.
<About the film "Miracle in Cell No.7>
The big factor that made this film successful is this film is a first heartwarming movie in a while. Recent Korean society seems to be savage and cold… This film gave laughter and impression to this kind of society, and besides we can watch this film with gentleness. I think this is why this film is loved. And there are not so many films that describe paternal love, are they? I bet it was also good that this film described not maternal love but paternal love.
For myself, I've loved to be with my father since I was a child. He's very short-spoken, but when I come back after I work all through the nights, he hugs me without words. When I was shooting "FBND", I said "I wanna eat dad's Gochujang Jjigae (고추장찌개)" , then he cooked and gave it to me in a thermos as a lunch box. At that time, I really felt dad's love. He is a father who makes all my wishes realized.
<About her new film "Rock, Paper, Scissors" >
It's a first romantic comedy of the director Kim Ji-woon who directed "I Saw The Devil".