UPDATE 12/27:
DVD Basic Structure:
Unreleased photo(s): 30P
Additional video (NG, review of the scenes, BTS etc) : Total of 500 minutes.
There will be EP20's scriptbook including of 15 actors/actresses' greetings and signatures.
Postcards: The 5 actors/actress who are involve in the reviewing of scenes and <The Inheritors> official poster's design? (1 of it among the 2 designs), total of 6 pieces of postcards.
Special:
<The Inheritors> poster.
Unreleased OST. (Tentative)
Price: $125~$150 USD without delivery charges.
28th December, people who will be participating in the reviewing of scenes:
PD Kang Shin Hyo, Lee Min Ho, Park Shin Hye, Kim Woo Bin, Choi Jin Hyuk, Kang Min Hyuk.
[ Kang Min Hyuk will be only participating in 1 episode's review because of his schedule ]
cr: useobwa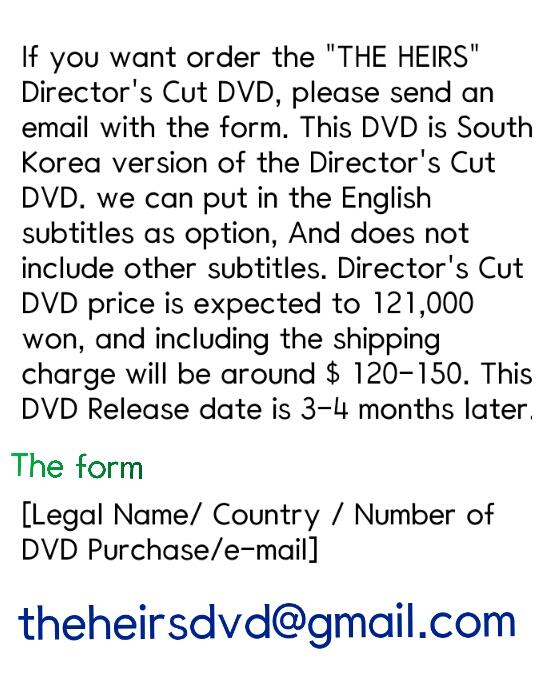 Hello everyone, the production team of SBS drama 'The Heirs' is deciding whether or not to make Director's Cut DVD and sell them to foreign fans (the production team has confirmed with us that the DVD will include English subtitles.) The Director's Cut DVD will be similar to the 'You're Beautiful' D-cut DVD released in 2009, which included exclusive BTS, cast interview and special souvenirs.
Subtitles: English
Price: There is no set price yet but it shou
ld be within the range of USD $120-150
When will it be on sale: in 3 months' time
They are now doing a survey to estimate the number of copies. If you are interested, please email (your full name/country you're living in/number of DVD you would like to order/email) to theheirsdvd@gmail.com .
相続者たち_ディレクターズ・カット版DVD ついに製作決定!
まだまだ仮需要の調査のご参加を受けております。こちらまでメールください。
[氏名/在住中の国/購買数量/メアド]
theheirsdvd@gmail.com
Example:
Full Name: John Park Kyu Hyeon
Country: U.S.A
Number of DVD: 1
Email: theheirsdvd@gmail.com
*****NOTE: THIS IS NOT AN OFFICIAL ORDER FORM. IT'S JUST A SURVEY. NO LISTED PRICE YET. HOWEVER, IF THERE ARE TOO LITTLE PARTICIPANTS, THE TEAM MIGHT NOT SELL THE DVD. SO PLEASE PARTICIPATE!*****